HELL BUNNY LOVERS - Annual Picture Competition for all Women since 2014.

HOW TO PARTICIPATE IN THE HELL BUNNY LOVERS PHOTO COMPETITION:
Save your Hell Bunny looks as pictures and send them to us - this is how you enter the summer picture contest.
The prize is an optional Hell Bunny dress from wannabe.fi's selections for both the jury's selection and the audience's favorite.
In addition, one of the winners will be raffled off among the winners. So it's worth filming and voting!
You can send us pictures right away until the end of July. The race photos will be available to view on our Facebook page throughout July.
Check out more detailed instructions and the privacy statement on the wannabe.fi online store website.
This year's judges (2022) are designer Mari peltodresses, a company that designs and manufactures unique wedding dresses from recycled materials. The second judge is Heli Mielonen from Helmivalokuvauskoulu, the School of Pearl Photography. They have years of collaboration behind them in realizing and visualizing people's dreams.
To access the Hell Bunny Lovers (2022) Picture Contest Rules and Privacy Statement, click on: HERE!
Email your Photo to hellbunnylovers@outlook.com
Good shooting moments!

Hell Bunny Lovers is traditional picture competition organized every summer by wannabe.fi which you can paticipate with your own picture where you and the Hell Bunny Design are in the lead role.
The purpose of the competition is to encourage women to dress feminine through examples.
The photo contest is held annually in July, when the pictures are viewable and available to thumbs up on our Facebook page throughout July.
The tenth Hell Bunny Lovers photo contest will take place in July 2023. Don't forget to participate!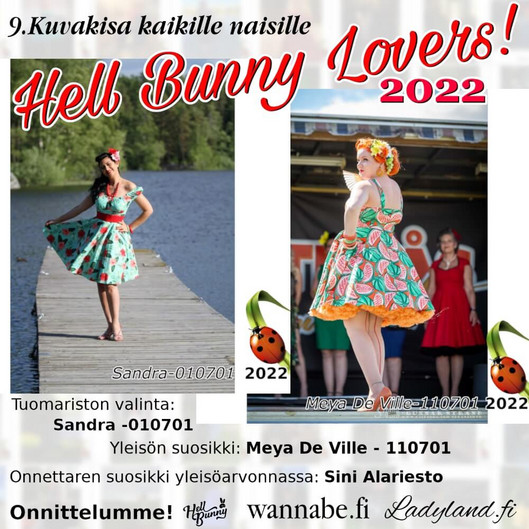 The Hell Bunny Lovers 2022 album is currently in our Facebook -album (Click the picture). We will be moving it here shortly.
Check out the pictures from the previous years by clicking the pictures below.